Standard stock items
GLT Bearings has probably the most extensive range of plain bearings in Europe. In addition, we offer a wide range of spherical plain bearings and rod ends. Standard stock items are characterised by covering the most common series in the most frequently required dimensions and are available at short notice.
One of our strengths is the reliable supply of our customers with bearings. This includes constantly stocking a large selection of bearings that our customers can call at short notice.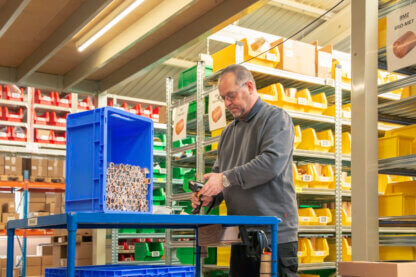 Of course, you cannot tell whether the plain bearing you need is in stock at first glance. We have set up a web shop for you to make it as easy and convenient as possible for you to purchase stock items. If a series is not available there in a specific design, this does not mean that it cannot be delivered. The only difference is the speed of availability.
Standard stock items ordered by 2 p.m. are usually shipped the same day. The delivery times for products that are not in stock can simply be requested.
Our product portfolio includes the following designs
Metal-Polymer bearings
bronze bearings with graphite
Bi-metal bearings with graphite
POM-coated bearings
bronze bearings
Bi-metal bearings
sintered bronze bearings
sintered iron bearings
sintered moulded parts
high temperature bearings up to 650 °C
additives like MoS2
bronze bearings with and without graphite
steel- and steel/manganese bearings
maintenance-free steel bearings
extruded plastic bearings
compound bearings
injection molded bearings
standard sizes
customized solutions
guided and unguided versions
heat insulated versions
flat design
version with spherical cap
over

2500

active customers

active in over

50

countries

until

14:00

Same-Day-Shipping